What's so important about inflammation?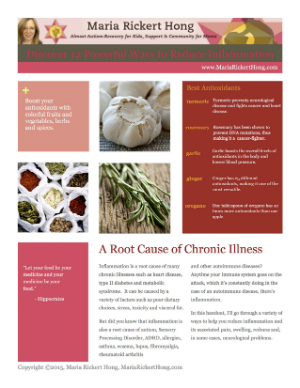 Inflammation causes pain, swelling, heat, redness and loss of function. Left untreated, it can lead to bodily tissue destruction, fibrosis and necrosis. Remember, pain is a signal that something's wrong.
Who has inflammation?
Inflammation is a root cause of many chronic illnesses such as autism, ADHD, allergies, asthma, eczema, lupus, fibromyalgia, rheumatoid arthritis, autoimmune diseases, heart disease, type II diabetes and metabolic syndrome.
Help!  How do I reduce it?
Sign up for this free report!  In it, I'll show you many simple things you can do with the foods that you're eating to reduce inflammation.  And when that happens, you may not have as much pain, stiffness and swelling.