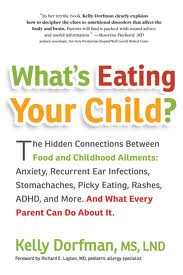 Kelly Dorfman's classic book, "What's Eating Your Child?" (now called "Cure Your Child with Food") is a must-read for parents of children with any kind of digestive, neurological or behavioral issue. 
She teaches you, as a parent, to think as a "nutrition detective", to figure out if there's something in your child's diet that is causing ear infections, tummy aches, rashes, constipation, acid reflux, insomnia or even picky eating.
Sign up below for a replay of my interview of her:

Ms. Dorfman not only gives us clues as to what might be causing these issues but offers suggestions for supplements that might help as well as tips for working with your pediatrician.
For example, in the a chapter about failure to thrive, which I've blogged about, she recommends testing your child for zinc deficiency, as it can be a cause for picky eating.
What most people don't know is that food and diet also play a huge part in the symptoms of ADHD, autism, bipolar disorder, dyspaxia, autism or Sensory Processing Disorder.  In this book, Ms. Dorfman shows us how food sensitivities and nutritional deficiencies contribute tremendously to these symptoms.
I highly recommend this book to any parent who has a child with any of these issues!  It's very well written and easy-to-follow with lots of practical advice.