Grain Free Brownies
Print recipe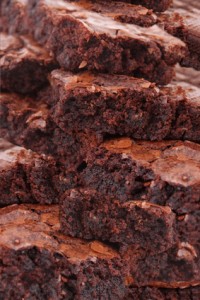 Ingredients
1/3 cup ghee or coconut oil (melted)
6 Large pasture-raised eggs
1 cup palm sugar, coconut sugar, succanat or rapidura
1/2 cup cocoa powder (sifted)
1/2 teaspoon sea salt
1/2 teaspoon vanilla extract
1/2 cup coconut flour (sifted)
Note
These gluten-free, grain-free brownies are more of the cake type.  I've substituted a low-glycemic sugar (palm sugar, coconut sugar, succanat or rapidura) for regular sugar.  Make these an occasional treat, not an everyday snack or dessert.
Directions
Step 1
Preheat oven to 350F. Grease an 8" x 8" baking dish.
Step 2
Whisk cocoa powder, coconut flour, salt and sugar together. Blend in coconut oil.
Step 3
Whisk eggs and vanilla together. Mix with dry ingredients.
Step 4
Pour batter into baking dish and bake for 30-35 minutes until a toothpick inserted comes out clean.