Wild Rice Dressing
Print recipe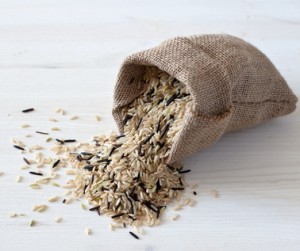 Ingredients
3/4 cups wild rice (soaked overnight, rinsed and drained)
3/4 cups brown basmati rice (soaked overnight, rinsed and drained)
4 cups cold, filtered water or homemade broth
1 piece kombu (kelp)
1 teaspoon sea salt
1 cup pecans (soaked overnight, rinsed, drained and dehydrated)
3 tablespoons extra-virgin olive oil
1 Medium onion (peeled and diced)
3 Large celery ribs (diced)
8oz shiitake mushrooms (thinly sliced)
2 cloves garlic (peeled and minced)
1-1/2 tablespoon fresh sage or thyme (minced)
1 Large carrot (peeled and diced)
Directions
Step 1
Combine rice, broth, kombu and sea salt in a medium pot. Bring to a boil over high heat. Cover, reduce heat to low and cook for 45 minutes. Drain grains and set aside.
Step 2
Meanwhile, preheat oven to 325F. Adjust oven rack to middle shelf. Spread pecans on a cookie sheet and toast for 8-10 minutes. Remove from oven and set aside to cool. Coarsely chop.
Step 3
In a wide heavy skillet, heat 3 tablespoons oil. Saute onions over medium heat for 5 minutes. Stir occasionally to prevent stick. Add carrots and saute for 3 minutes. Stir in celery with a pinch of sea salt; continue cooking another 5 minutes. Add garlic and sage; saute another minute. Remove from pan.
Step 4
Wipe out pan and heat another 3 tablespoons oil over medium heat. Add in mushrooms and saute until light brown. Add in other vegetables, rice, pecans and parsley. Stir to combine.
If you're looking for a gluten-free, savory side dish to add to your rotation or holiday table, try this easy and satisfying wild rice dressing dish.