Paleo Barbecue Sauce
Print recipe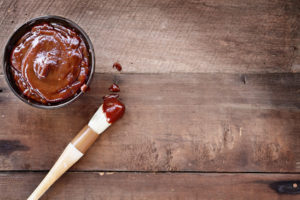 Ingredients
1 teaspoon coconut oil
1 Medium yellow onion (diced)
4 cloves garlic (minced)
6oz tomato paste
1 Large lemon (freshly squeezed)
2 tablespoons raw, local honey
2 tablespoons raw apple cider vinegar
1 teaspoon mustard seeds (ground)
1 teaspoon sea salt
1/2 teaspoon smoked paprika
Directions
Step 1
Heat oil in medium saucepan. Saute onion over medium-high heat until soft, about 6 minutes. Add garlic and cook for 2 more minutes. Stir in tomato paste and cook over medium heat until thickened, about 5 minutes. Add remaining ingredients and simmer until sauce is the texture of ketchup, about 5 more minutes.
Step 2
Transfer to a blender and puree until smooth. Add more salt as necessary.
Enjoy your next barbecue guilt-free by making this easy Paleo barbecue sauce. Slather on meats, grill and enjoy! Can also be used in barbecue baked beans.