BEET KVASS
Print recipe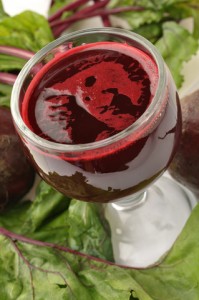 Ingredients
starter culture (see note)
2 teaspoons sea salt
3lb beets (peeled and cut into 1/2-inch cubes)
Note
Beets are great liver detoxifiers.  This recipe gives the added benefit of probiotic bacteria.
The starter culture can be fresh whey drawn from clabbered milk, kefir or yogurt.  It can be the brine of previously fermented vegetables like sauerkraut or kimchi.  Or it could be a cultured vegetable starter, like the one offered by Body Ecology.
I don't recommend using kombucha or water kefir as starter cultures as they can produce unnecessarily yeasty (and sometimes slimy) kvass.  Use 1/4 cup in the recipe above.
Beyond fresh whey and fermented vegetable brine, I prefer to use a packaged starter culture to make beet kvass and other tonics.  Unlike whey, sauerkraut or kimchi juice which may have limited ability to inoculate the kvass depending on their age, a packaged starter culture is very reliable and is flavor neutral.
I typically use 1 packet kefir starter culture when I make beet kvass.  I also see a benefit in culturing very specific beneficial bacteria, especially as part of an overall healing protocol.  Use 1 package starter culture.
Directions
Step 1
Whisk starter culture and sea salt into 1-1/2 quarts filtered water until well dissolved.
Step 2
Place beets into a 1-gallon vegetable fermenter or fermentation crock. Cover with liquid ingredients until the crock is full within one inch of its lip and the beets are completely submerged. Pour in additional filtered water, as necessary.
Step 3
Allow the kvass to ferment at room temperature for at least one week before straining and serving.
Sign up for free access to my monthly newsletter, where you'll learn how to take charge of your health!