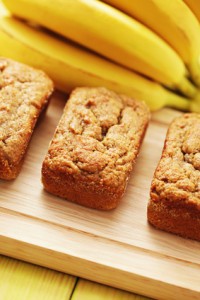 This coconut flour banana bread is suitable for those following the GAPS, SCD or Paleo diets; it's such a great snack, treat or dessert!
Coconut flour is a great alternative for those looking for gluten-free and/or grain-free recipes.
You can't just substitute it into any recipe, though, because it soaks up moisture like a sponge.
Instead, you need a recipe like this one, that's designed for coconut flour.
Serves:  10
Prep time:  10 minutes
Cook time:  40 minutes
Ingredients
1 cup coconut flour
3 large ripe bananas (smashed)
4 large pasture-raised eggs
6 tablespoons ghee or coconut oil (melted), plus more for greasing loaf pan
1/3 cup raw, local honey
1/4 teaspoon sea salt
1 teaspoon cinnamon (I prefer Celyon cinnamon)
1/2 teaspoon baking soda
2 teaspoons ground vanilla bean powder
Directions
Preheat oven to 350F. Oil loaf pan.
Mix bananas, honey, oil/ghee, vanilla powder and eggs.
In a separate bowl, mix the coconut flour, baking soda, sea salt and cinnamon.
Add the dry ingredients to the wet and stir until well combined.
Spoon batter into loaf pan. Bake for 35-40 minutes or until golden brown and a toothpick comes out clean after being inserted.
See Also
Sign up for my best gluten-free, dairy-free recipes below: