Paleo Ketchup
Print recipe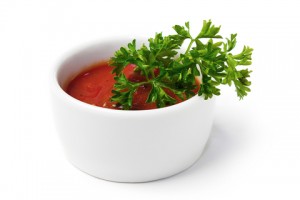 This ketchup is legal for both the GAPS and SCD diets.
Ingredients
1-3 tablespoon white or apple cider vinegar
2 cups tomato juice
raw, local honey (to taste)
bay leaf ((optional))
sea salt (to taste)
freshly ground black pepper (to taste)
Directions
Step 1
Mix all the ingredients except the honey and simmer on the stove until thick, stirring often to prevent sticking. When almost the desired thickness, add honey to taste and complete cooking. Ladle into sterilized jars and seal immediately or place in small containers and freeze.
This homemade Paleo ketchup is also legal for both the GAPS and SCD diets. It uses honey instead of sugar, plus it's homemade!
Sign up for free access to my monthly newsletter, where you'll learn how to take charge of your health!