Egg-Free Banana Muffins
Print recipe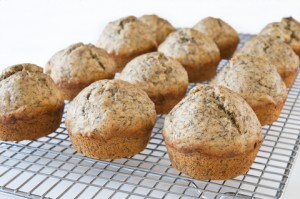 Ingredients
2 ripe bananas
2 cups raw cashews or any other nuts
4 teaspoons raw, local honey
4 teaspoons gelatin powder or crystals (I use Great Lakes gelatin)
4-8 tablespoons ghee, pastured butter or coconut oil (if you want a dairy-free version, use either ghee or coconut oil)
Directions
Step 1
Preheat oven to 350F.
Step 2
Grind the nuts into a flour.
Step 3
Mash the bananas.
Step 4
Dissolve gelatin in half a cup of hot, filtered water.
Step 5
Mix all ingredients together.
Step 6
Spoon batter into muffin tin.
Step 7
Bake until lightly brown, 15-20 minutes.
These SCD/GAPS-legal muffins are gluten-free, dairy-free, egg-free and delicious!
Sign up for free access to my monthly newsletter, where you'll learn how to take charge of your health!