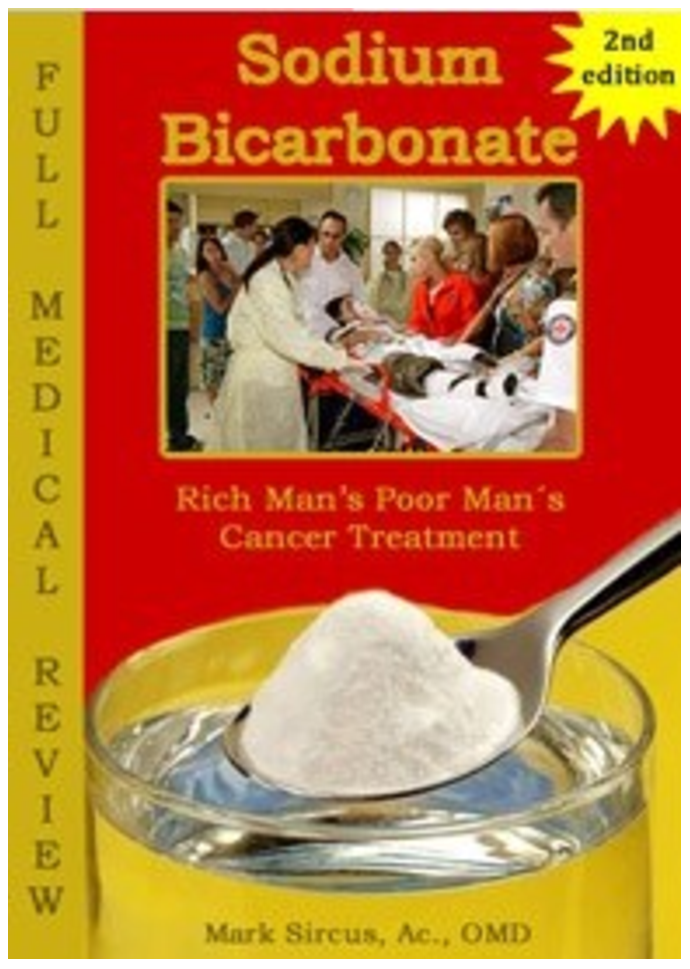 I have to say, I was fascinated with the material in Dr. Mark Sircus' book, "Sodium Bicarbonate:  Rich Man's, Poor Man's Cancer Treatment" because it provides a fundamental framework for understanding the nature of disease:  that chronic health conditions and diseases arise from an acidic state of the body.
This book is an interesting look at the link between baking soda and health.
Sign up below to get the webinar replay of my interview of him.

What pH Leads to Optimal Health?
By this point, many of us may have heard or read that an alkaline body is required for good health or its converse, that an acidic body develops diseases and disorders.  If you haven't heard about this, that's OK, just know that a slightly alkaline body pH of 7.35 – 7.45 is optimal.
Dr. Mark Sircus lays the foundation for why this pH level is optimal:  because "excessive acidic pH leads to cellular deterioration" and because "acid conditions increase the strength of oxygen free radical reactions which are involved in the processes of cell injury and cell death".
Anyone who knows my work as a Certified Holistic Health Counselor knows that I am constantly harping about inflammation.  Inflammation is caused by the aforementioned free-radical reactions and is a common underlying factor in chronic diseases and conditions.
Acid Conditions Lead to Inflammation
So, here we have an underlying factor to the underlying factor of inflammation:  acid conditions in the body.  Not only that, but Dr. Sircus digs further to show us that this increased oxidative stress caused by free radicals, which is caused by an acidic condition, is especially dangerous to our mitochondria.  Aha!
Mitochondrial dysfunction is beginning to be shown by researchers to be a common underlying issue in conditions ranging from autism to Parkinson's, and I'm betting that it goes deeper than that:  I'm betting it's common in most, if not all, chronic diseases and conditions, which is, I believe, essentially what Dr. Sircus is getting at, too.
If I understand this correctly, then an acidic body condition => free-radical generation => oxidative stress => inflammation => mitochondrial dysfunction (in a nutshell).
So here's a simplified, yet elegant, approach to understanding the nature of disease:  an acidic body condition, which is brought about by our Standard American Diet (SAD), toxicity, especially from heavy metals, stressful lifestyles and radiation, such as from EMFs.
Not only does Dr. Sircus deliver this framework, but he also dives deeper into two diseases with growing rates of incidence:  diabetes and cancer.
Diabetes and Cancer
Type 2 diabetes occurs when the body's cells become insulin-resistant, so the pancreas, which produces insulin, has to make more and more insulin to keep stuffing our excess blood sugar into our cells.
Dr. Sircus writes that "the pancreas, an organ largely responsible for pH control, is one of the first organs affected when general pH shifts to the acidic" and that "once there is an inhibition of pancreatic function and pancreatic bicarbonate flow, there naturally follows a chain reaction of inflammatory reactions throughout the body".
He also points out that heavy-metal toxicity, other toxic chemicals and radiation "will affect, weaken and destroy pancreatic tissues."  Interesting (at least to me)!
What's even more interesting is what Dr. Sircus writes about cancer:  "Cancer patients have a saliva pH of 4.5 to 5.5.  Healthy people have a pH of 7.0 to 7.5."  He points out that way back in 1931, "Dr. Otto Warburg discovered that 'to become malignant, cancer must have low oxygen, strong acid environment'", so this is not new news, although it appears it's been forgotten.
Baking Soda and Cancer
So what happens when cancer patients alkalize their bodies?  He indicates that "Cancer cells become dormant at pH 7.0 and 7.5 and kills them dead at 8.0 and 8.5".  He also advocates the use of sodium bicarbonate in cancer patients (as well as patients of other chronic conditions).
Before you start poo-pooing this idea and calling it quackery, consider that "Sodium bicarbonate is used routinely to keep the toxicity of chemotherapy agents and radiation from killing people or from destroying their kidneys."
I caution, as does Dr. Sircus, that ingesting baking soda can be harmful if it is not done correctly because it leads the body into an overly alkaline state, which comes with its own set of of problems.  Perhaps the safest route is to toss a half cup of it into your bath and to eat a more alkaline diet.
Overall, I appreciate the material and references in this book for showing us how important an alkaline condition is and how it can be promoted with the use of sodium bicarbonate, which is baking soda.
However, I'm giving this book only 4 stars out of 5 because the book reads like a collection of blogs that weren't edited for coherency from one chapter to the next.  In fact, there are many points where whole paragraphs are copied and pasted verbatim from one chapter to another.
The use of a professional editor would have been a good idea for this book because he or she could have added more flow and coherency while correcting the many typos and grammatical errors in the book.
I only point this out because I know, from having published many reports myself when I worked on Wall Street, that credibility is seriously lessened by such easily fixable mistakes.  If Dr. Sircus wants his ideas to receive more credibility with a bigger, mainstream audience, and I would like to see that happen, I recommend that he hire a professional editor first before publishing.
Sign up for free access to my monthly newsletter, where you'll learn how to take charge of your health!