Creamy Vegan Asparagus Soup
Print recipe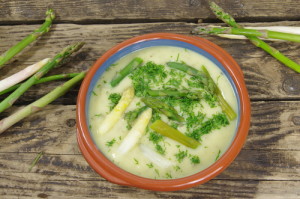 Ingredients
1lb fresh asparagus (trimmed and cut to bite-size pieces)
1-1/2 cup potatoes (Yukon Gold or new, large dice)
2 Large shallots
1/2lb Jerusalem artichokes (sunchokes) (peeled; large dice)
2 tablespoons coconut oil
3 cups homemade vegetable broth
1/2 teaspoon sea salt
Directions
Step 1
In a large saucepan, heat oil over medium heat. Add shallots and salt. Cook until shallots soften; do not brown.
Step 2
Add asparagus, potatoes, Jerusalem artichokes and broth and to the shallots. Cover and bring just to a boil. Turn down heat to low and cook for 20 minutes or until vegetables are tender.
Step 3
Let cool down, then transfer to a blender to puree. Return to pan to warm, if necessary, then serve.
Even if you're not vegan, using vegan recipes is an easy way to avoid dairy and eggs, which many people are sensitive or allergic to. Try substituting broccoli or other greens in this easy-to-make, delicious recipe!
Sign up for free access to my monthly newsletter, where you'll learn how to take charge of your health!