Braised Endive and Fennel
Print recipe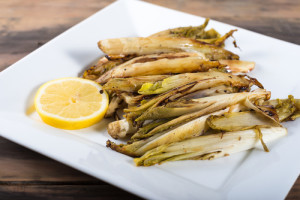 Ingredients
4 heads Belgian endive (cut in half, lengthwise through the root)
3 bulbs fennel (cut into thin wedges)
1 teaspoon ghee or coconut oil
1-1/2 cup homemade vegetable or chicken broth
1/4 cup dried cranberries ((optional))
1/2 teaspoon sea salt
Directions
Step 1
Preheat oven to 400F.
Step 2
Coat inside of 9"x13" roasting pan with ghee or coconut oil.
Step 3
Arrange fennel and endive in pan. Cover with broth. Add salt. Sprinkle with dried cranberries.
Step 4
Cover with foil and bake for 30 minutes. Remove the foil and continue baking for another 15 minutes or until the fennel is tender.
Baking softens the bitterness of endive and brings out the sweetness of fennel. This recipe is super-easy to make and delicious!
Sign up for free access to my monthly newsletter, where you'll learn how to take charge of your health!