COCONUT FLOUR BREAD
Print recipe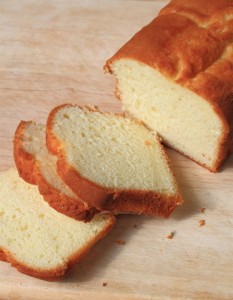 You can use this SCD/GAPS-legal bread recipe for snacks, breakfast or sandwiches.
Ingredients
6 pasture-raised eggs
1 tablespoon raw, local honey
1/2 cup ghee, pastured butter or coconut oil (if you want a dairy-free version, use either ghee or coconut oil)
1/2 teaspoon sea salt
3/4 cups sifted coconut flour (sift first, then measure)
1 teaspoon baking soda (aluminum-free)
Directions
Step 1
Preheat the oven to 350F. Grease a small (9"x5"x3") loaf pan.
Step 2
Blend together eggs, ghee, honey and salt.
Step 3
Combine coconut flour with baking soda and mix with liquid ingredients until there are no lumps.
Step 4
Pour into greased loaf pan and bake for 40 minutes.
Step 5
Remove from pan and cool on rack.
Step 6
Serve with ghee, nut butter, or use in sandwiches.
Sign up for free access to my monthly newsletter, where you'll learn how to take charge of your health!