This fennel and apple salad is refreshing on a warm day. Kids like its crunchiness, and the maple syrup and apples make for a fun way to get some of the benefits of fennel, such as aiding digestion, into your diet.
Fennel and Apple Salad
Print recipe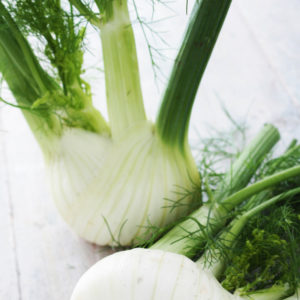 Ingredients
2 bulbs fennel, including stalks
2 Large apples, your choice
1 tablespoon sesame oil
1 tablespoon maple syrup
1 tablespoon apple cider vinegar
1/4 teaspoon sea salt
Directions
Step 1
Slice fennel stalks into small pieces. Quarter the fennel bulbs and remove core. Slice remainder into small pieces.
Step 2
Slice apples in half, then quarter each half. Remove core and slice remainder into small pieces.
Step 3
Add in remaining ingredients. Toss together, season to taste. Serve.