I interviewed Dara Berger about her book, "How to Prevent Autism". You can sign up for the replay below:
In "How to Prevent Autism", Dara Berger shares her personal journey with autism.
She describes everything that went wrong with her son that led to an autism diagnosis and everything she did differently to prevent her daughter from suffering the same fate.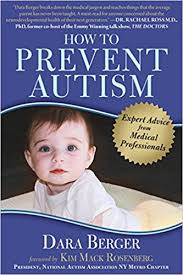 Based on the best practices for preventing autism in children, each professional offers perspectives grounded in their own research and their patients' improvements.
What's Covered in the Book:
Factors that have led to the growing epidemic of autism
Interviews with eight well-known autism experts–including doctors, nutritionists, nurses, and scientists.
The importance of mothers' cleaning out their bodies preconception
Common genetic mutations that may put children at risk
The crucial role of nutrition in prevention
All parents agree that every choice counts when it comes to the health of their children. As Dara Berger makes clear in this personal, informative, and authoritative book, the stakes could not be higher when it comes to autism.
Dara Berger is the author of "How to Prevent Autism".
She is also a documentary filmmaker who is currently working on a film about how to prevent chronic illness in children.
Dara served as a Board Member and Co-Chair of the Programming Committee for the National Autism Association New York Metro Chapter for six years.
She began her career as a news reporter/producer for a local nightly news program, and subsequently founded her own documentary film production company, Say It Out Loud Productions, Inc. to produce films on meaningful issues.
She has recently completed the Institute for Integrative Nutrition's health coach certificate program, which she hopes to use to help other families prevent chronic illness and autism in their children.
Dara is on the advisory committee of Epidemic Answers' Documenting Hope Project.
Sign up for free access to my monthly newsletter, where you'll learn how to take charge of your health!