Oven-Roasted Fiddlehead Ferns
Print recipe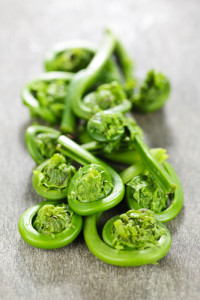 Ingredients
2 cups fiddlehead ferns (trimmed)
1 Medium lemon (zested and juiced)
3 tablespoons capers (optional)
1 tablespoon coconut oil or ghee (melted)
1/4 teaspoon sea salt
Directions
Step 1
Preheat oven to 400F.
Step 2
Coat inside of 9"x13" roasting pan with ghee or coconut oil.
Step 3
Bring a medium pot of water to a boil. Blanch fiddleheads for 2 minutes. Drain and plunge into an ice water bath or cold water to stop cooking.
Step 4
Drain. Toss with lemon juice, oil, capers and salt.
Step 5
Place in pan and roast for 12-15 minutes, until lightly browned and crisp around the edges.
Don't be afraid to try fiddlehead ferns! Their bitterness, crunchiness and short-term availability make them something to look forward to every spring.