Baked Sweet Potato Chips
Print recipe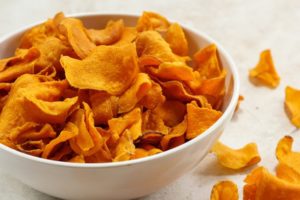 Ingredients
1 Large sweet potato
1/2 teaspoon sea salt
1/2 teaspoon cumin or seasoning of choice
Directions
Step 1
Preheat your oven to 400F.
Step 2
Using a mandolin, slice sweet potatoes as thin as possible.
Step 3
Toss slices with salt and spice.
Step 4
Arrange the potato slices, in a single layer, on a baking sheet lined with parchment paper. Bake for 10 minutes, or until edges start to crisp.
You'll need a good mandolin to slice these baked sweet potato chips extra-thin. They make a great snack for kids and parties.