Vegan Potato Salad with Dill
Print recipe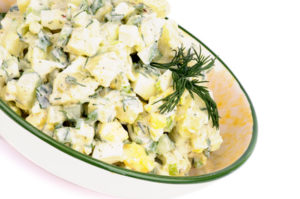 Ingredients
2lb small red potatoes
1 Large avocado
1 Medium lemon (freshly squeezed)
1 tablespoon Dijon mustard
1/2 teaspoon sea salt
1 tablespoon raw, local honey
1/3 cup dill (minced)
1/2 bunch green onions (sliced)
3 Medium celery stalks (diced)
1 Small red onion (diced)
black pepper and paprika (to taste)
Directions
Step 1
Steam potatoes for 10 minutes, until fork tender. Refrigerate for an hour, then chop into bite-sized chunks.
Step 2
Peel avocado. Mash with lemon juice, mustard, sea salt and honey.
Step 3
Combine dill, green onion, celery, onion, and avocado dressing. Add to potatoes. Season with black pepper and paprika to taste.
If you need egg-free and/or dairy-free recipes, be sure to check out vegan recipes, as they contain neither. This vegan potato salad with dill is perfect for a summer barbecue, plus you don't have to worry about the eggs in the mayo spoiling in the sun because there are no eggs in it!