GAPS Barbecue Baked Beans
Print recipe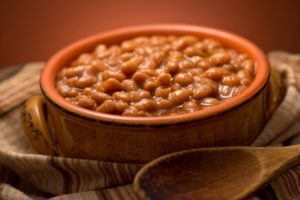 Ingredients
1 Medium yellow onion (diced)
1 Large green bell pepper (diced)
1 clove garlic (minced)
2 cups navy beans (soaked overnight or for 8 hours; rinsed)
1 cup Paleo Barbecue Sauce (see recipe)
1/2 cup tomato sauce
3 tablespoons raw, local honey
Directions
Step 1
Preheat oven to 325 degrees.
Step 2
In a large saucepan, place navy beans and cover with an inch of water. Put lid on and heat over medium-high heat. When beans begin to foam, lower heat to low and skim off foam. Cook for an additional 30-40 minutes, or until soft.
Step 3
Place a dutch oven or heavy pot on medium heat. Heat oil, then and add onion, bell pepper and garlic. Saute until slightly softened and translucent, about 5 minutes.
Step 4
Remove from heat and add beans, barbecue sauce, tomato sauce, and honey. Stir to combine.
Step 5
Place lid on pot and transfer pot to oven. Bake for 1 hour, minimum, longer if you want a thicker sauce.
You know not to use canned foods, right? Cans are lined with BPA, an endocrine disruptor. It'll take a little longer to soak and cook these beans from scratch, but it's worth it knowing that your food is cleaner.
Use the Paleo Barbecue Sauce recipe here. Kids will love these beans, and you can bring them to a summer barbecue party, too!